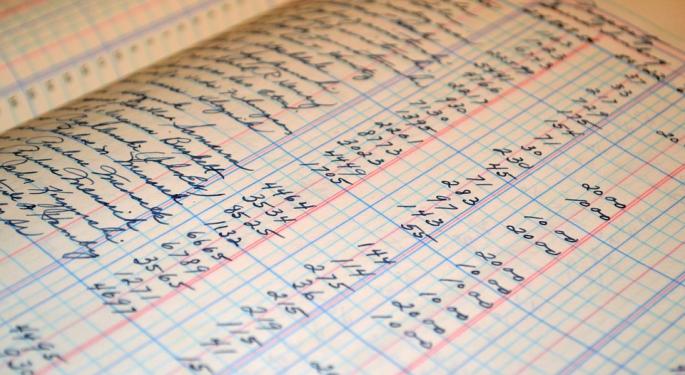 One of the most important things you can do when researching a stock if you're a long-term investor is look at the company's financial statements. We're talking balance sheets, income statements, and statements of cash flows.
A company's financial statements are available on their investor relations page or on the SEC's website. But if you want to be able to easily look up the statements of multiple companies in one place, you can do that on a site like FinanceBoards, which offers various widgets where you can look up both quarterly and annual statements.
The Balance Sheet
The balance sheet—a breakdown of a company's assets, liabilities, and capital—shows us what a company is worth at a given time. In other words, how much are their total assets worth, what kind of debt liabilities do they have, and how much shareholder equity is there?
We can view all of this information on FinanceBoards' Balance Sheet Quarterly Widget, or view it in chart form below.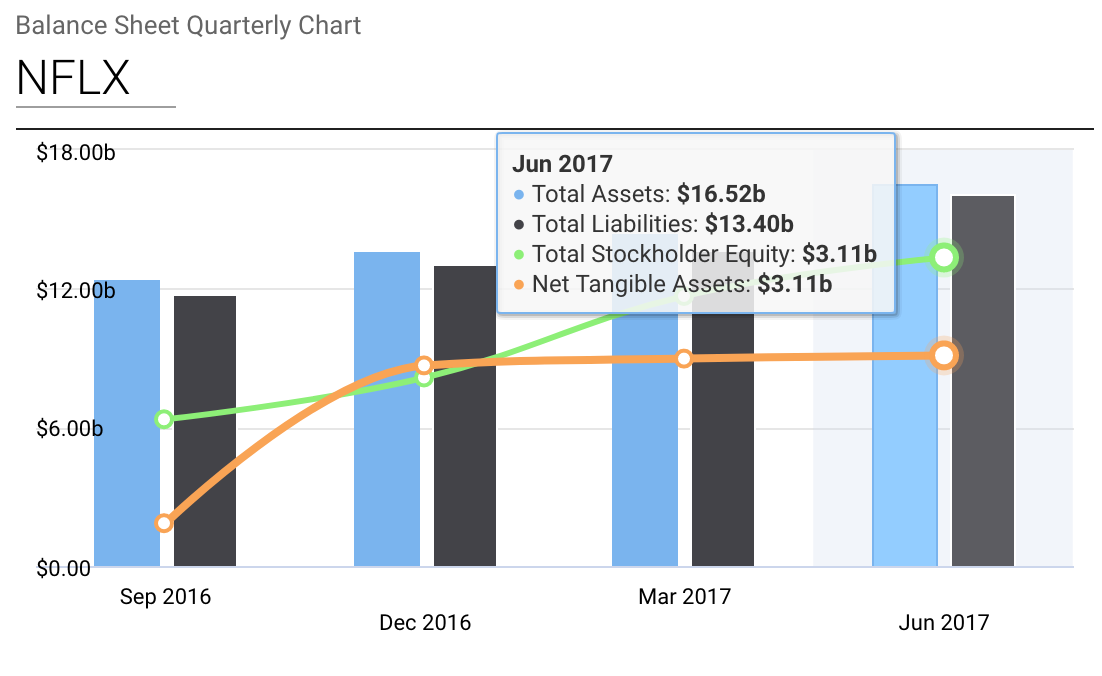 We can see that Netflix, Inc. NFLX 1.64% has more assets than liabilities. The difference between those numbers is the total stockholder equity. So, Netflix was worth about $3.11 billion at the end of June 2017.  We can also see that from September 2016-June 2017 Netflix saw a dramatic increase in both assets and liabilities.
The Income Statement
The income statement shows how profitable a company is. It shows us a company's total revenue, expenses, and the result of those two numbers, net profit. If you want to know how much money a company is making, this is the spot.
To learn more about the Company Financial Statement Widgets on FinanceBoards, check out its Widget Spotlight Series.
Looking at Netflix's quarterly income statement, we can see that revenue spiked dramatically at the beginning of 2017 but leveled off afterwards. In all, the company generated $65.60 million in net profit in the June 2017 quarter.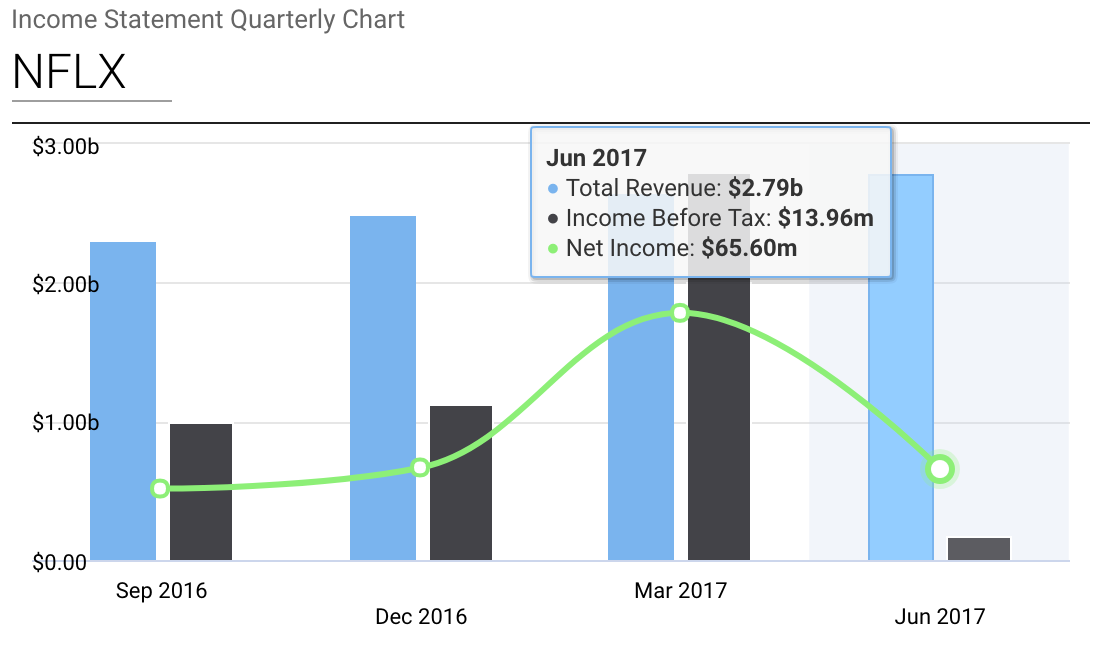 The Statement Of Cash Flows
This tells us where in a company cash is going to. Is the company spending money on operations? Mergers and acquisitions? Are they paying it back to shareholders via dividends? The statement of cash flows tells us how a company is spending its money, and what excess money they have left over (this is called free cash flow).
Looking at a chart of Netflix's statement of cash flows over the last four quarters, we see that they spent far more on operating activities and financial activities in the June 2017 quarter than the March quarter.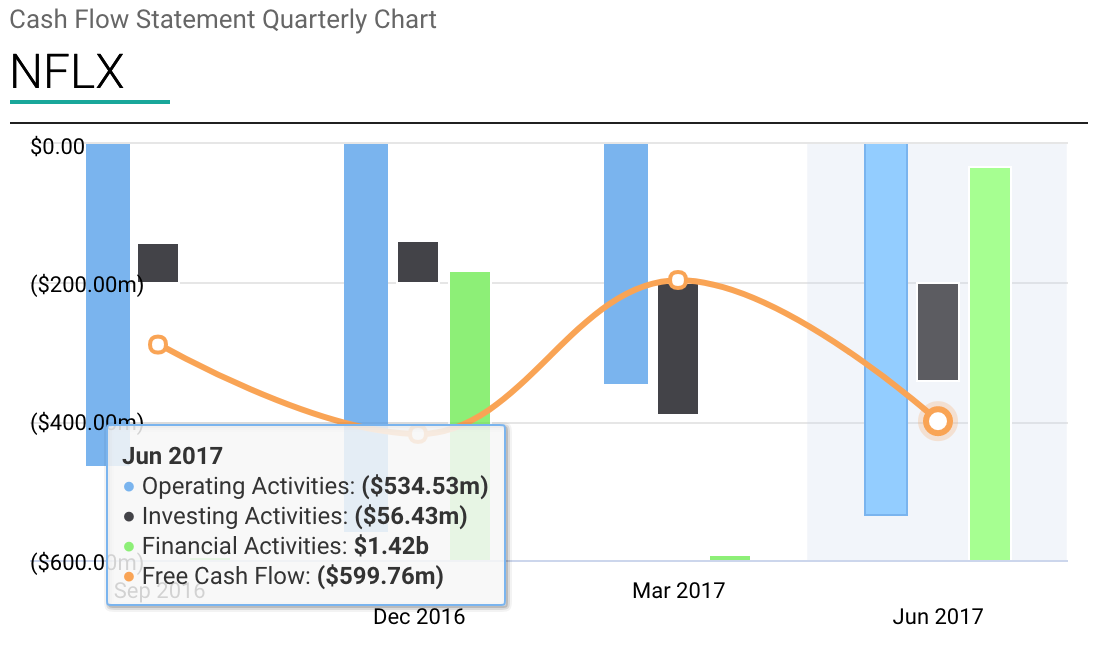 Together, these three statements offer critical insight to breaking down a company's financial health. They're important enough to take the time to learn how to understand on their own, but it's also worth having a platform, like FinanceBoards, that can break these complicated statements down in a faster, simpler way in multiple formats on one screen.
WooTrader is a sponsored partner with Benzinga. This article was written in conjunction with WooTrader, and may have been subject to their approval.
["Source-benzinga"]