This article is part of a series created in partnership with SiteGround. Thank you for supporting the partners who make SitePoint possible.
Markdown is a fast and efficient way to write content for the web. We sang its praises and listed its benefits in our previous article, How Writers and Bloggers Can Make the Most of Markdown in WordPress This follow-up post is a quick reference of the best plugins that let you use Markdown from within WordPress.
By default, WordPress has no Markdown support. The awesome thing about WordPress is that you can add additional functionality with a plugin. The way these plugins handle Markdown is quite different, so choose carefully—you'll need one that fits into your workflow and has the features that you need.
If you intend to use a separate Markdown app for writing, and you're happy to convert your content to HTML before pasting into WordPress, then you won't need any of these. WordPress will never see Markdown. Alternatively, you can use Markdown QuickTags and convert to HTML from within WordPress.
If you'd prefer to paste your Markdown into WordPress and leave it that way, you'll need a plugin to render it into HTML on the fly, so it can be displayed in your visitors' web browsers. Typewriter and Markdown for WordPress and bbPress are good choices. Just don't deactivate the plugin, or your visitors will just see the Markdown version of the page!
But if you need to work extensively with Markdown within WordPress, then have a look at Jetpack, WP-Markdown and PrettyPress. Out of these, Jetpack is the most widely used and supported, and has the benefit that it not only converts your Markdown to HTML automatically, it also keeps the Markdown version for future editing. On the other hand, if you value a preview pane so you can see how your Markdown will be rendered on the fly, take a look at PrettyPress.
When writing with Markdown, always use the text editor and not the visual editor. You'll avoid surprises with formatting that way.
Have we missed your favorite Markdown plugin? Let us know in the comments.
1. Jetpack
Cost: Markdown is available in Jetpack's free plugin, though paid plans are available with additional themes, security features and support
Active installs: 3+ million
Rating: 4.1 out of 5 stars (1,347 reviews)
Jetpack is probably the best way to work with Markdown in WordPress. Unlike many of the other plugins, it is well-supported, widely-used, and uses the Markdown Extra syntax by Michel Fortin which includes additional features like code blocks and tables. And it's brought to you by Automattic, who bring you WordPress.
You can use Markdown on your Jetpack-powered blog for posts, pages and comments.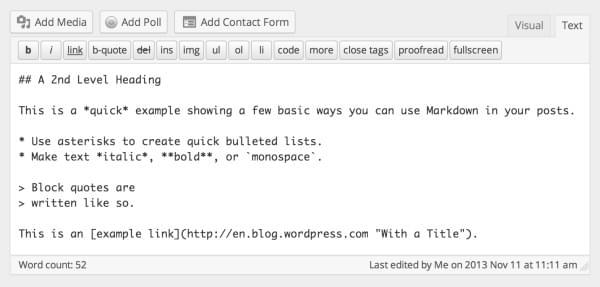 Your documents are saved in HTML format so your site will still look OK if the plugin is deactivated, but the Markdown copy is retained for future editing. This gives you the best of both worlds.
The original Markdown text you write will always remain in Markdown, this way you can go back and edit it using Markdown. Only the published document – the post or the page – will be converted. If you write a post in Markdown, it will be published as a fully formatted post on your blog, but when you go back and edit, it'll still be in Markdown.
If you're just installing Jetpack for the Markdown features, then have a look at JP Markdown.
2. WP-Markdown
Cost: free
Active installs: 4,000+
Rating: 4.5 out of 5 stars (23 reviews)
This plugin stores all of your content in HTML, but converts it to Markdown for editing.
This plug-in allows you to write posts (of any post type) using the Markdown syntax. The plug-in converts the Markdown into HTML prior to saving the post. When editing a post, the plug-in converts it back into Markdown syntax.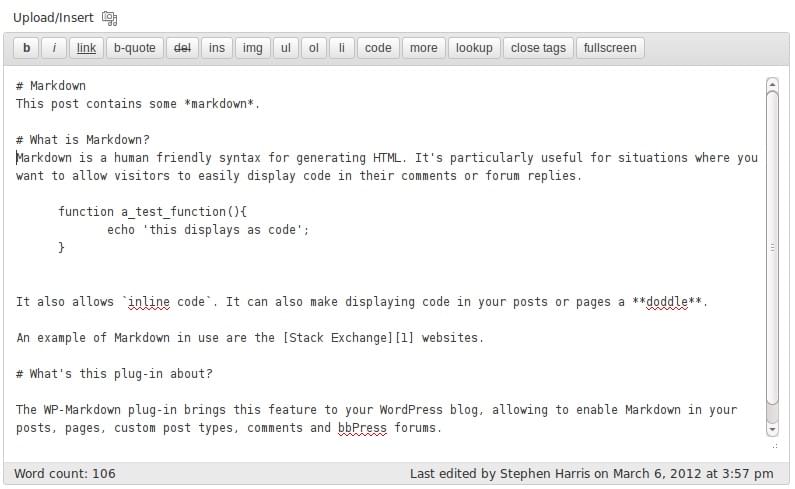 The plugin hasn't been updated in over two years. I haven't come across any reports of problems, but test it before use.
3. PrettyPress
Cost: free, with a pro version (that gives shortcode previews) for $10
Active installs: 600+
Rating: 4.7 out of 5 stars (13 reviews)
PrettyPress not only supports Markdown, but gives a live preview of your post while you type.
PrettyPress is a WordPress plugin that simplifies and smartens the way you write online. It rids distractions and bloated features, to give you exactly what you need to write posts quickly: a markdown editor and parser, a real-time live preview of your post, a distraction free environment.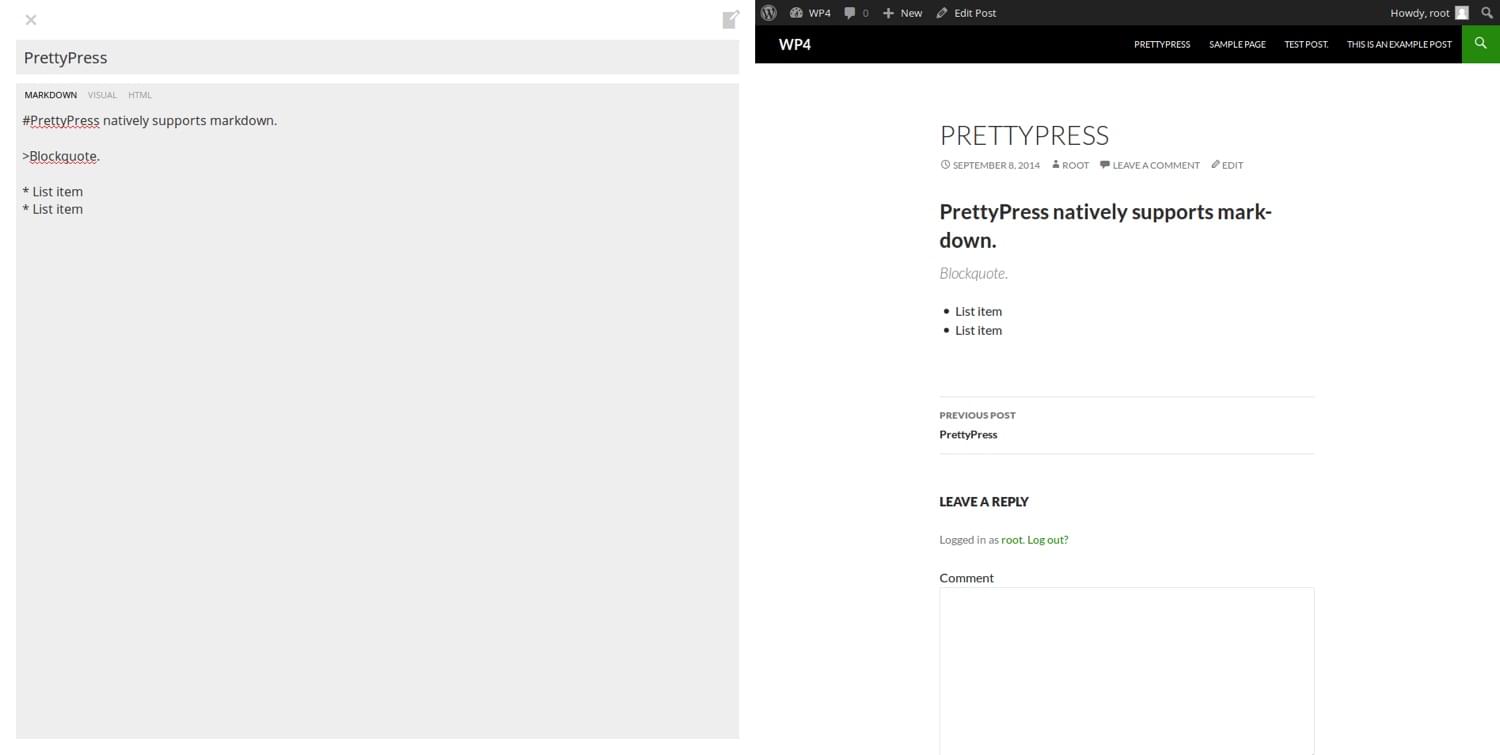 Posts are stored in HTML and converted to Markdown as needed. Most reviews are very positive, but one user complained that the plugin doesn't do a great job of converting from HTML back to Markdown when editing old posts. Your mileage may vary.
4. Markdown for WordPress and bbPress
Cost: free
Active installs: 500+
Rating: 5 out of 5 stars (1 review)
This plugin allows you to store your posts in Markdown format, and renders them to HTML on the fly.
Markdown syntax allows you to write using an easy-to-read, easy-to-write plain text format.
You can use it in conjunction with something like Markdown QuickTags (below) so you can leave your post in Markdown format for future editing.
5. Markdown QuickTags
Cost: free
Active installs: 300+
Ratings: 4.3 out of 5 stars (3 reviews)
Written by Brett Terpstra, this is a good option if you want to paste Markdown into WordPress and convert it to HTML with one click
Markdown QuickTags is a plugin for WordPress which replaces the HTML editor with a Markdown-enabled set of buttons and features. It can edit Markdown for saving, or render the finished Markdown to HTML, if you prefer. You can preview the rendered HTML at any time, and there's even a full-screen editing mode.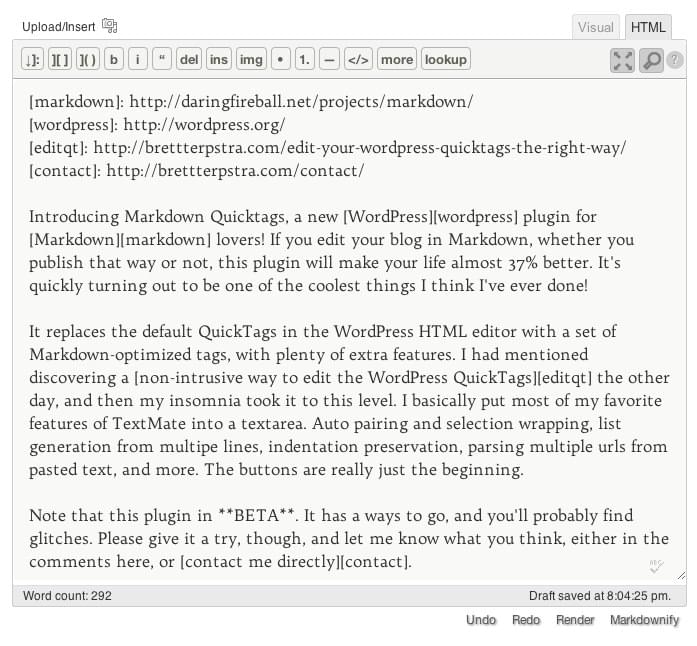 6. Typewriter
Cost: free
Active installs: 70+
Rating: 5 out of 5 stars (7 reviews)
Typewriter is a simple Markdown editor for WordPress.
Typewriter completely removes the "Visual Editor" feature in WordPress and replaces it with a simple Markdown editor.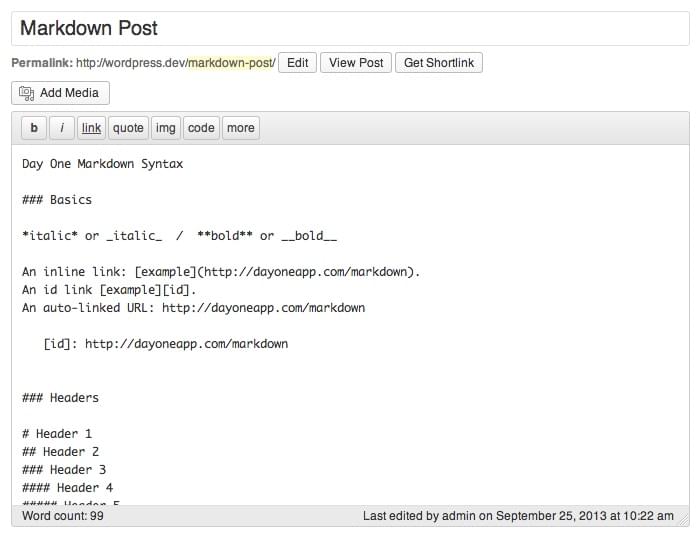 Your posts are stored in Markdown format, so if you disable the plugin, it won't be pretty. This plugin hasn't been updated in over two years.
If you're looking for somewhere to host your WordPress site after you've got your Markdown solution figured out, take a look at our partner, SiteGround. They offer managed WordPress hosting, with one-click installation, staging environments, a WP-CLI interface, pre-installed Git, autoupdates, and more!
["Source-sitepoint"]