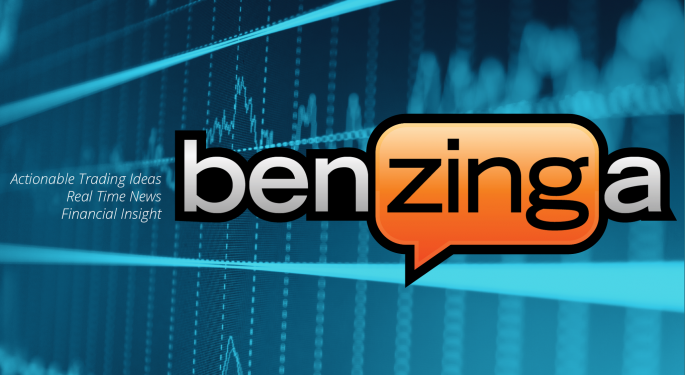 The stories and headlines you'll find on Benzinga offer a comprehensive overview of the latest happenings on industry news and market-moving developments.
But if going to a website or checking Benzinga on Twitter Inc TWTR 3.27% is just too much work, there's now a quicker way to integrate the latest breaking stories from across the markets directly into your stock market research.
We're happy to announce that Benzinga News is a featured widget on the stock research platform FinanceBoards. FinanceBoards users can now receive unfettered access to a constant flow of Benzinga headlines and article synopses, all of which is simply a ticker search away.
If you're looking for a place to learn more about FinanceBoards and how to use the platform, FinanceBoards holds weekly webinars Thursdays at 4:30 ET.
Bite-Sized Benzinga
Let's say, for example, you were interested in the latest news on Tesla Inc TSLA 0.7%. The Benzinga News widget allows you to search by stock symbol only those news stories that you're looking for on that particular stock.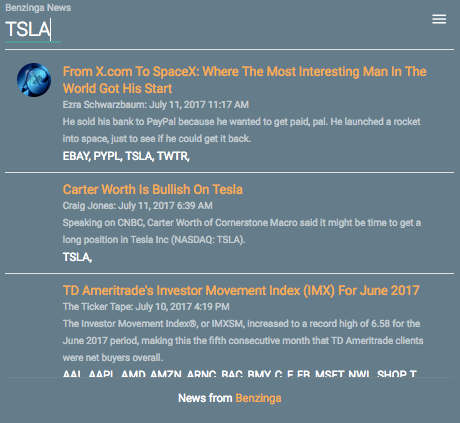 The widget then provides a list of headlines and brief previews of articles related to Tesla, Elon Musk, SpaceX and any other mentions of the TSLA stock. These quick summaries can offer quick insight into what's moving a stock at a given moment.
The Benzinga Board
The tool's true utility comes into play when paired with other Benzinga-sourced widgets. Below you'll see the Benzinga research dashboard, a customized page populated with a few of the widgets that cull data from Benzinga.com.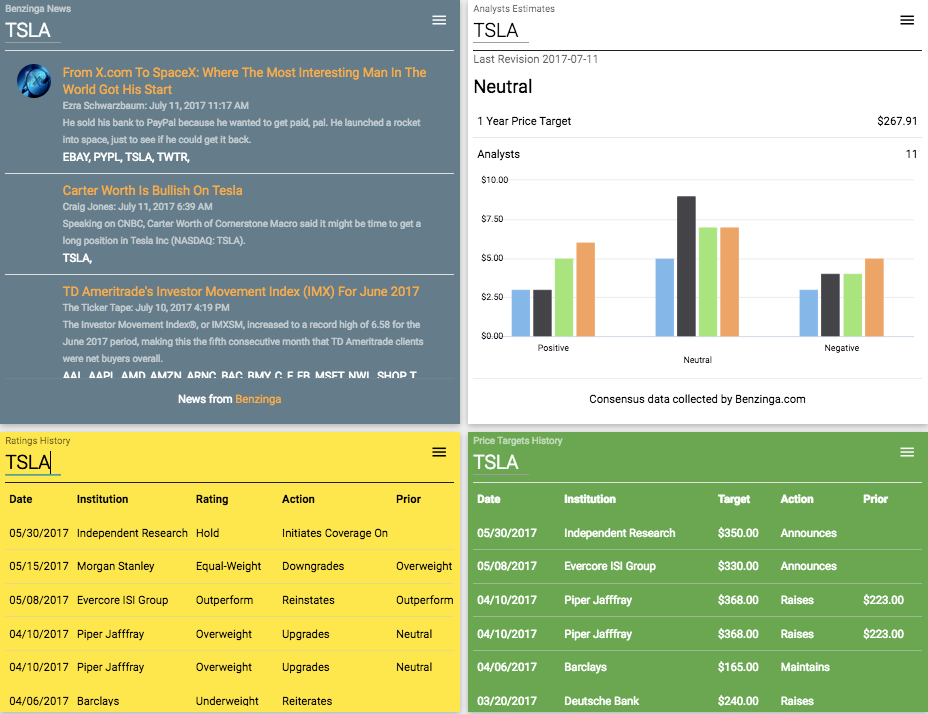 If that headline on Carter Worth's comments on Tesla caught your interest, you could quickly check the surrounding widgets to see how other analysts were feeling toward the company by searching TSLA in the Benzinga Ratings History widget.
Or perhaps you want a broader gauge of sentiment on Musk's baby. You can find that in the Benzinga Analyst Estimate widget, which shows one-year analyst price target changes broken down by timespan.
To learn more about the Benzinga News Widgets on FinanceBoards, check out their Widget Spotlight Series.
There are, of course, other widgets besides Benzinga's available to users of FinanceBoards. Traders also have free use of more than 200 similar tools at their disposal. But we like to think Benzinga has all your research needs covered.
If these tools caught your interest, stop by FinanceBoards and check them out. And, if you like the info you're seeing in the widgets, let us and the folks at FinanceBoards know. You might find more Benzinga-based tools on your board in the near future.
Disclaimer: Financeboards is a sponsored partner with Benzinga. This article was written in conjunction with FinanceBoards, and may have been subject to their approval.
["Source-benzinga"]