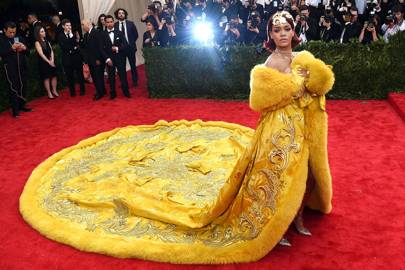 The Met Gala is soon upon us, where all of fashion's heavyweights – from designers, to models, editors and muses – come together to celebrate the art form. It's the Oscars of fashion, but what makes the annual ball one of the most exciting events of the year? The dress-up factor, of course.
Fact: everyone loves to dress up, even hard-faced fashion people, it seems. And with the Met assigning a different 'theme' to each year, the peacocking is rife (and the beauty looks are equally memorable).
Themes gone by include a Jacqueline Kennedy theme, Fashion and Furniture in the 18th Century and Punk. The Met Ball theme for 2017 is 'Comme des Garçons': a celebration of the brand's visionary, Japanese Rei Kawakubo, and her designs.
Even if you don't follow fashion, this year's Met red carpet will be worth watching for the spectacle alone. Many of Comme's painterly designs are not exactly wearable, so let's see how some of the more serious attendees take on the tricky theme.
For now, we take a nostalgic look back at the Met's best ever themes and which stars hit the nail on the head…