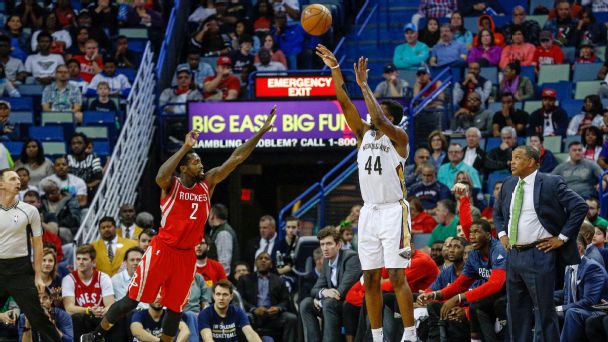 WASHINGTON — It pained Jimmy Butler to say the words that were about to come out of his mouth. As the All-Star swingman described the Chicago Bulls' play in a lackluster first half — in which they trailed by 19 in a game they would ultimately lose 112-107 to the Washington Wizards — Butler was blunt in his assessment.
"We were just lazy," Butler said. "I hate this word — and soft. I hate it. But that's exactly what we were. They beat us at every 50-50 ball. Whopped our tail in transition. We turned the ball over. All those things that we talked about all year replayed in that first half. And then we decided to play some better basketball in the second half."
The Bulls deserve credit for not rolling over in the second half the way they have a few times this season. They made the game close and interesting down the stretch. But Butler, who knows that opponents are going to be throwing bodies at him constantly now that Dwyane Wade is done for the rest of the regular season because of a fractured elbow, didn't see many positives in the final score being close. He saw his beleaguered team for what it was at this point of the season.
"What's crazy is we've done that all year long," Butler said. "I figured that we'd get tired of it, but I don't know, I guess we like playing that way. I don't know the answer to it. I really don't. I can't tell you [what it is]. It's like a broken record. Y'all are going to ask me the same questions, I'm going to give you the same [answers]. We've done it all year long. Not getting back in transition, turning the ball over, not rebounding. All of that stuff. Eventually you would think that it would change, but what, we're 70, I don't know, 60-something games in, and it's still there."
Coach Fred Hoiberg acknowledged that he laid into his Bulls at halftime for the lack of effort they showed at times in the first 24 minutes. He, too, is frustrated by watching the same movie night after night. With the loss, the Bulls have dropped seven of their past eight games and are now 32-37 and two games behind the Milwaukee Bucks for the final playoff spot in the Eastern Conference.
"I really challenged them at halftime," Hoiberg said. "It was one of those situations where we weren't getting back in transition, we were turning the ball over, and we weren't rebounding. The three things that we talked about that we had to do to stay in this game, we were not doing. We went out there the second half and turned things around and really battled and fought. And like I just told them, I said, 'If we go out with that type of mentality, if we go out with that type of fight, we're going to stay in this [playoff race]. If we play like we did in the first half, we got no chance.' It's gonna be, obviously, a full 48 minutes, put together two halves, to give ourselves a chance here down the stretch."
But why should anyone believe the Bulls can be something they haven't proved to be by this point? Butler knows if the Bulls can push back the same way they did in Friday's second half, they'll be OK, but nobody can blame him, or any other member of the Bulls' staff, if it seems tough to grasp. Without Wade, the Bulls don't have the offensive safety valve they were used to having.
"It started off a little shaky," Butler said of playing without Wade. "But then we kind of fixed a lot of things in that second half. And I think that's the way we're going to go moving forward. We got to keep it really simple. You can't put too many guys in too many different places and positions out there on the floor because they aren't used to it. It's not their fault. But it's kind of like, it's a lot of different plays whenever D-Wade isn't out there. All of his plays are scratches now. We've just got to focus in on the plays we're going to be running with that group when he's not out [there]. Whoever's taking his position [has] got to know where they're supposed to be."
Aside from the season-long inconsistencies, the biggest issue for the Bulls is the same one it's been all along: The talent depth on the roster just isn't good enough, a fact that becomes even more obvious without Wade. Hoiberg saw the issues early Friday and tried to fix them at halftime, but he can't fix what ails the Bulls most. They just don't have enough consistent players.
"We notice when he's out of character," Butler said of Hoiberg. "But loud or not, we're the ones out there playing. We know what we're doing. He can come in here and not say anything and we know what we're supposed to be doing. He don't got to yell. We are grown men. We know how we dug ourselves a hole, what we weren't doing. We've been doing it all year. He didn't have to come in here and yell. He did. Maybe it hit a switch. We played better in the second half. So hopefully he don't got to yell no more, we'll just start playing better from the jump."
["Source-espn"]