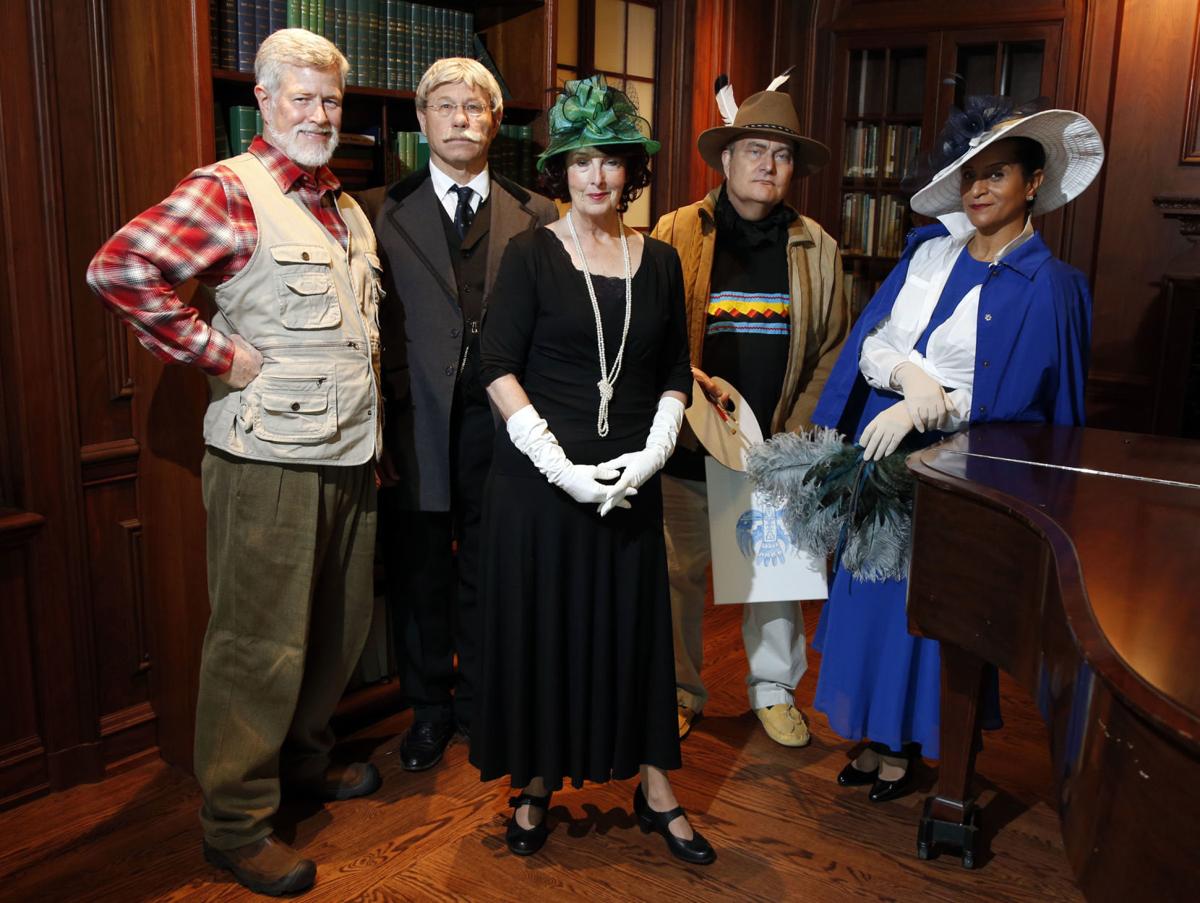 The last time Gen. John J. "Black Jack" Pershing visited Tulsa, he was handed a shovel and was told to dig.
Pershing, who served as commander of the American Expeditionary Forces during World War I and became the only person in U.S. history to be awarded the rank of General of the Armies, came to Tulsa in February 1920.
Pershing took part in a parade that wound through Tulsa's downtown, along Main Street and circling Central High School (now the headquarters of Public Service Company of Oklahoma) so that students could catch a glimpse of the general.
Pershing met with various local dignitaries at the Hotel Tulsa, had lunch at the Tulsa Country Club and gave a speech at what is now the Brady Theater.
His tour of the town also included a trip to what is now the intersection of 21st Street and Utica Avenue, where Pershing took part in the groundbreaking ceremonies for what would become St. John Medical Center.
"This was something of a sidelight of his trip here," said Brad Phelps, of St. John Marketing and Communications. "But it was notable enough for St. John that we managed to hang on to the shovel he used."
"Black Jack" Pershing will make his return to Tulsa, when he is portrayed by scholar Doug Mishler as part of the 2018 Tulsa Chautauqua.
This year's event is titled "The Modern Age: Moving Forward After World War I" and will feature scholars portraying historical personages from that era.
In addition to Mishler, the scholars participating in this year's Chautauqua will be Vanessa Adams-Harris portraying entertainer and activist Josephine Baker, John Anderson portraying novelist Ernest Hemingway, Debra Conner portraying artist and arts patron Gertrude Vanderbilt Whitney, and Michael Hughes portraying Oklahoma artist Acee Blue Eagle.
The "War to End All Wars" did more than upend all ideas about the "noble glory" of armed combat. It also reshaped people's ideas about the world around them, from politics and foreign policy to art and literature.
Many countries adopted isolationist policies, while artists and writers began even more to push the boundaries of form and subject matter, such as Hemingway's terse, stripped-down prose; Baker's scandalous, semi-nude "Danse Sauvage" routine at the Folies Bergère; and Vanderbilt's Cubist-influenced sculptures, such as her monumental piece, "Monument to the Discovery Faith."
At a Chautauqua presentation, scholars will deliver a presentation in character as their chosen historical figure, followed by a question-and-answer session, also in character. After that, the scholar will step out of character to talk about the character and his or her life from a more scholarly angle.
In keeping with the history of the chautauqua, a form of public intellectual entertainment that takes its name from the New York lake where it was developed in the 1870s, Tulsa Chautauqua presentations will be given outdoors under a large tent, set up on the grounds of the Tulsa Historical Society.
In addition to the evening presentations, each scholar will conduct workshops that deal with subjects related to the overall theme. The workshops will be conducted inside the Tulsa Historical Society facility, where the shovel used by Pershing at the St. John groundbreaking will be, along with other archival materials related to that event.
---
2018 Tulsa Chautauqua
Noon — John Anderson: "Hemingway and the Culture of Celebrity." How Hemingway's legendary celebrity interacted with his literary reputation to forge his iconic brand of masculinity and adventure. Workshop with John Anderson.
5:30 p.m. — Michael Hughes: "American Indian Art in Oklahoma, from Mammoths to Masters." Learn about American Indian art from prehistory through the 20th century, concentrating on the "golden age of Oklahoma Indian art."
7 p.m. — Doug Mishler as Gen. "Black Jack" Pershing
Noon — Vanessa Adams-Harris: "A Great Migration:  African-American Ex-Pats." The chance to achieve an equality unattainable in the United States was irresistible after the Great War for African-Americans who had fought for the freedom of others abroad.
5:30 p.m. — Doug Mishler: Now It's Harder to Duck: Transition to Modern War:  How Gen."Black Jack" Pershing's career transitioned from 19th century warfare to modern war and how his role in WWI influenced the American military and shaped modern society.
7 p.m. — Debra Conner as Gertrude Vanderbilt Whitney
Noon — Doug Mishler: "Unleash the Kracken: How 'The Modern' Brought Chaos to America." Just as computers and the wired society have radically affected 21st century life, so did "the birth of the modern."
5:30 p.m. — Debra Conner: "All That Money Can Buy." A look at Gertrude Vanderbilt Whitney's contributions to the art world and at an artist she championed, Edward Hopper, as well as the stories behind the elaborate homes of the era.
7 p.m. — Michael Hughes as Acee Blue Eagle
Noon — Michael Hughes: "Stories from Books Written By and Illustrated by American Indians." Stories and illustrations from children's books, from a pioneering effort by Acee Blue Eagle to the celebrated works of Paul Goble. This workshop is designed for young people, but adults are welcome.
5:30 p.m. — John Anderson: "Soldier's Home." A look at Hemingway's 1925 story "Soldier's Home," about a WWI veteran adjusting to civilian life when he returns to his home in Oklahoma, exploring Hemingway's development as a modernist writer.
7:00 p.m. Vanessa Adams-Harris as Josephine Baker
Noon — Debra Conner: "Inspired by Georgia O'Keeffe." Create your own expressive works of art in the manner of Georgia O'Keeffe, whose paintings used simplified shapes and bold colors. Suitable for ages 8 to adult.
5:30 p.m. — Vanessa Adams-Harris: "Josephine Baker to Hip-Hop Fashion Forward." Josephine Baker's costumes have influenced a generation of contemporary hip-hop artists, and this workshop looks at the messages of hip-hop self-identity.
7 p.m. — John Anderson as Ernest Hemingway
["Source-tulsaworld"]