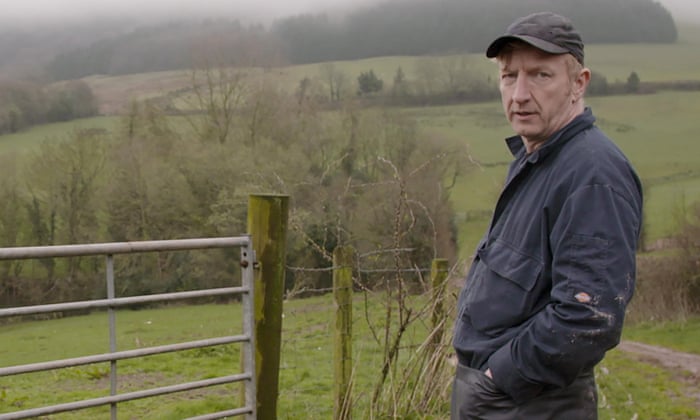 'For the last two and a half hours of the day, I'm working for free' … Steffan Rhodri in The Pines
But if I don't do this, what else can I do?
I can … you know, these days there's so much paperwork to do, when you apply for the Single Farm Payment, farmers pay people to do the paperwork for them. So that's actually a job you can do now. Farmers need money to keep going – but the system's so complicated they have to spend money, to get the money.
After the vote, there was this meme going round Facebook. "Shocked leave farmers realise too late where their subsidies come from." Allegedly sensible people in the cities thinking we don't know where the bloody –
Even with the mountains of paperwork we have to do to get the subsidy, we're so stupid we don't –
Fuck's sake.
I was thinking a lot about subsidy before the vote.
The supermarkets pay 24p a litre for milk. But it costs 32p to produce a litre of milk.
So if I work a 10-hour day – and I do, at least – for the last two and a half hours of the day, I'm working for free.
So the supermarkets, the little shops, the restaurants and every person in this country who drinks milk – they all get subsidised. By me.
And they say – you've got to diversify! Try selling directly, keep more of the money for yourself. Well, we do. Sell fruit in the summer, we sell eggs. The little cafe down the road, the Pines, buys a lot of eggs from us, to be fair.
It's a cafe now, used to be a cottage years ago. My grandma lived there, after she passed the farm on to mum and dad. A woman from London moved down five years ago, sold her flat in Clapham and made enough to buy a house to live in, and the cottage to turn into a business. Seems like she's done pretty well, the place is always full.
The cottage was called Cefn Hirgoed. But when she opened the cafe she changed it to "the Pines". Cos it's easier to say, I suppose.
Me and a bunch of other farmers in the area thought about coming together, setting up a co-operative to process our milk ourselves. And so we – well, so I – worked out the figures, how much would we actually have to sell our milk for, to make ourselves any profit at all. I went into the Pines – I remember I walked straight into a table cos there were no lights on, just candles, because of "Earth Hour". Anyway I asked her would she be interested in buying our premium, free-range, organic local produce? And she was very keen – till she heard the price.
"Oh no," she said, "I could never afford to pay as much as that for milk."
And away with her in her massive car.
I like to think she went straight to Tesco to buy a job lot of cheap milk just to spite me. But probably not.
She's not a spiteful woman, it's just … when you get people worrying one second about global warning, the next second getting milk in from Belgium rather than buying from the farm down the road …
Well, you find yourself not quite sure why you should work for nothing so they can enjoy their fucking flat whites.
Went into the Pines the day after the vote, to deliver my eggs.
She was staring at her iPad saying – it just doesn't feel like my country any more.
And I couldn't help but think –
– now you know how we feel.
Os na allai wneud hyn, beth arall alla'i 'neud?
Allai ddim…..T'mod ma gymaint o waith papur i 'neud dyddie yma, pan ti'n neud cais am y single farm payment, ma ffermwyr yn talu rhywun i neud y gwaith drostyn nhw. Ma hwnna yn job ti'n gallu cael nawr.
Mae rhaid i ffermwyr gael yr arian i gadw fynd. Ond ma rhaid ti 'ala arian er mwyn cael yr arian.
Ar ol y bleidlais, oedd y peth yma yn mynd rownd ar Facebook – 'Shocked Leave farmers realise too late where their subsidies come from. Pobl allegedly call o'r dinasoedd yn meddwl bod ni ddim yn sylweddoli o….er y mynyddoedd o waith papur ni'n neud bod ni'n rhy dwp i…Fuck sakes.
O ni'n meddwl lot am y cymorthdal cyn y bleidlais. Reit, ma'r archfarchnad yn talu 24 ceiniog am liter o laeth ond mae'n costi ni 32 ceiniog i gynhyrchu liter o laeth. So os dwi'n gweithio deg awr y dydd – a 'wy blydi yn, 'allai weud 'tho chi, o leuaf – am y ddwy awr a hanner olaf wy'n gweithio am ddim. So ma'r archfarchnad, a'r siope bach a'r llefydd byta a phob un person sydd yn yfed llaeth yn cael cymorthdal….oddiwrtho i. 'Sai'n gwbod rhagor pam ddylwn i foddran.
A ma nhw'n gweud ' you've got to diversify' gweithio yn fwy uniongyrchol. Cadw mwy or arian i ni'n hunen. Wel ry'n ni yn. Wy'n gwerthu ffrwythau yn yr Haf, yn gwerthu wyau.
Ma Caffi bach lawr yr heol yn prynu lot o wyau 'da ni chware teg. Caffi yw e nawr, bwthin oedd e'n arfer bod. 'Odd Mamgu yn byw 'na slawer dydd cyn pasio'r ffarm mlaen i mam a dad. Menyw o Lundain 'di symud lawr bythdi pum mlynedd yn ol . 'Di gwerthu flat yn Clapham a wedi neud digon I brynu ty a'r bwthin I droi yn fusnes. Mae'n neud yn itha da weden i, mae wastad yn llawn 'na.
Cefn Hirgoed oedd enw'r bwthin ond pan droiodd hi fe mewn i gaffi, newidodd hi'r enw i The Pines. Haws i 'weud 'sbo.
Ac o ni a chriw o ffermwyr eraill yr ardal yn meddwl dod at ein gilydd. Sefydlu co-operative. Prosesi llaeth ein hunain. A nethon ni…wel wnes i weithio mas y ffigurau. Am faint byse ni'n gorfod gwerthu'n llaeth er mwyn gwneud unrhyw elw o gwbl. Es i lawr at y fenyw yn y Pines Wy'n cofio pan es i mewn yna bwmpes i mewn i'r celfi achos odd dim gole gyda hi mlaen dim ond canhwyllau achos bod hi'n Earth hour. Wel t'apin, ofynes iddi oedd diddordeb gyda hi brynu ein premium free-range organic local produce? O oedd, oedd hi'n keen iawn medde hi, tan iddi glywed y pris. O na galle hi byth talu gyment a 'na am laeth medde hi. A bant a hi yn ei char enfawr.
Wy'n lico meddwl aeth hi straight i Tesco i brynu job lot o laeth chep jest i'n sbeito i….probably not, so 'ddi'n fenyw sbeitlyd jest….pan fod pobl un funed yn becso am global warming a'r funed nesaf yn prynu llaeth mewn o wlad Belg yn lle prynu o'r ffarm lawr yr heol…ma dyn yn dechre meddwl pam ddylwn i weithio am ddim er mwyn iddyn nhw fwynhau ei ffycin flat whites.
Es I mewn ir Pines y bore ar ol y bleidlais, delifro wyau. 'Na le oedd hi, y fenyw yn steran a rei ipad. 'It doesn't feel like my country any mo
["Source-theguardian"]