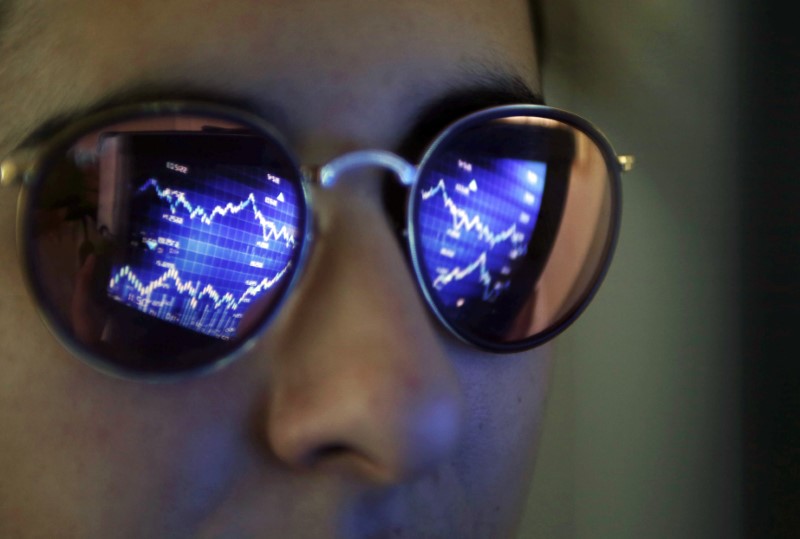 LONDON (Reuters) – Following are five themes likely to dominate thinking of investors and traders in the coming week and the Reuters stories related to them.
1/ Euro and Earnings
The euro's blistering rise to a two-year high could start to threaten the bright outlook for European corporate profits, big brokers and investors warned, putting a dampener on enthusiasm around the region's equity markets, which are currently among the most favored destinations for global investors. More than half the revenue of top European firms is generated outside the euro zone, according to Thomson Reuters data, meaning a strengthening euro has an adverse impact on those revenues once they are brought home. As European earnings season kicks off in earnest over the coming week, the extent to which the euro's rise is hurting companies that get revenue outside the euro zone will be a key area of focus for investors.
(To view a graphic on European profits vs the trade-weighted euro, click reut.rs/2uhsufd)
2/ Vix View Skewed
To judge by the CBOE's Volatility Index, investors are not too concerned about a major pullback in world stocks. The VIX "fear gauge" this week closed below 10 for a record-breaking five consecutive days. However, as Wells Fargo Asset Management highlighted in a note, the CBOE SKEW index is pretty high in historical terms, indicating investors are buying protection against a fall in the S&P 500, so they may be fearful of bigger drops.
(For a graphic on VIX "fear gauge" at record lows but skew betrays investor worries, click reut.rs/2vFKwWc)
3/ the Fed and the Spread
The U.S. Federal Reserve's interest rate decision on July 26 is, by market metrics, a foregone conclusion: no change to the target fed funds rate of 1-1.25 percent. According to the CME Group's FedWatch tool, prospects for another rate increase don't come within range until the Fed's mid-December meeting and even then the chances are still less than 2 to 1. With no news conference following the coming week's decision, ferreting out whether the optimism expressed by Chair Janet Yellen on June 14 on the U.S. economy remains intact will be harder. The flattening of the yield curve between 2- and 10-year notes signals investors see less optimism and slower economic growth ahead. The spread, at less than 100 basis points, is just about a dozen bps from its narrowest in 10 years. Steven Englander, head of research and strategy at Rafiki Capital, says U.S. economic activity outside of the labor market is not falling apart, but the bloom is certainly off the rose when it comes to growth. The dollar index's near 8 percent drop indicates disappointment in the lack of economic stimulus from Washington and the prospects of tighter monetary conditions, albeit slowly, in the euro zone.
(For a graphic on Fed Funds Rate, 2-10 Yr Treasury Spread, and the U.S. dollar index, click reut.rs/2tuC1jX)
4/ Japan's Conundrum
The Bank of Japan has again pushed back the timing for when it expects to reach its inflation target. New inflation and unemployment readings are due in the coming week and will remind the BOJ of its difficulties it faces. On some measures, Japan's labor market has been the tightest since the 1970s, but prices are not budging. Tracking data over the past half century suggests inflation picks up when unemployment approaches 2 percent. The modern economy has higher labor participation and more temporary contracts, mind you, but that does little to resolve the BOJ's conundrum.
(For a graphic on Japan unemployment and inflation, click reut.rs/2tsU22b)
5/ if You've Got It…
Cash-rich European companies are showing the strongest year-on-year growth in capital spending plans in the world. This is the latest sign of renewed optimism in the region, which has benefited from a return of investor flows, spurred by a rebound in growth and a brighter outlook for company earnings. Consequently capex plans are set to be closely watched by investors as the earnings season gets under way next week.
[Source:-reuters]