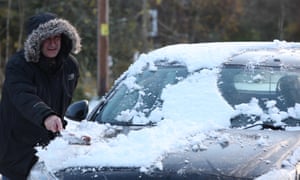 Temperatures dropped to -4C (24.8F) across large swaths of the UK on Sunday night – but it was not the chilliest night of the autumn so far.
Forecasters had expected temperatures of as low as -7C – colder than the -6C recorded in Braemar, Aberdeenshire, on 6 November.
But winds that were a "little bit stronger" than expected meant that temperatures did not drop as low as predicted, although they were below freezing in many places and large parts of the country had a frost on Monday morning.
The coldest temperatures of -4C were felt across parts of Scotland, rising slightly to -3C in Gloucestershire and mid-Wales.
Met Office forecaster Simon Partridge said: "We've had three short cold snaps over the past three weekends but it will become less cold over the coming days, before another, more prolonged, cold spell into next weekend."
Monday will stay cold in most parts of the country, with temperatures barely reaching double figures anywhere outside of the south-west and south Wales, the Met Office said. Rain will move east from the Atlantic, across Northern Ireland and Scotland. There could be sleet or snow on higher ground in those northern areas.
By the evening, the rain and drizzle is forecast to drift south into central areas.
The outlook for the rest of the week is for milder, cloudier and damp conditions until Friday, when temperatures are once again expected to drop.
The wintry conditions come after an unusually mild and dry October, the eighth warmest since 1910, when records began, the Met Office said. The forecaster said temperatures were kept higher than usual for the season by mild west or south-westerly airflows.
"Around the middle of the month, ex-tropical Hurricane Ophelia dragged warm air northwards across the UK, resulting in maximum temperatures in the low 20s across eastern counties of England (23.5C in Manston, Kent, on 16 October) as well as hurricane-force winds," a Met Office blogpost said.
Source:-theguardian