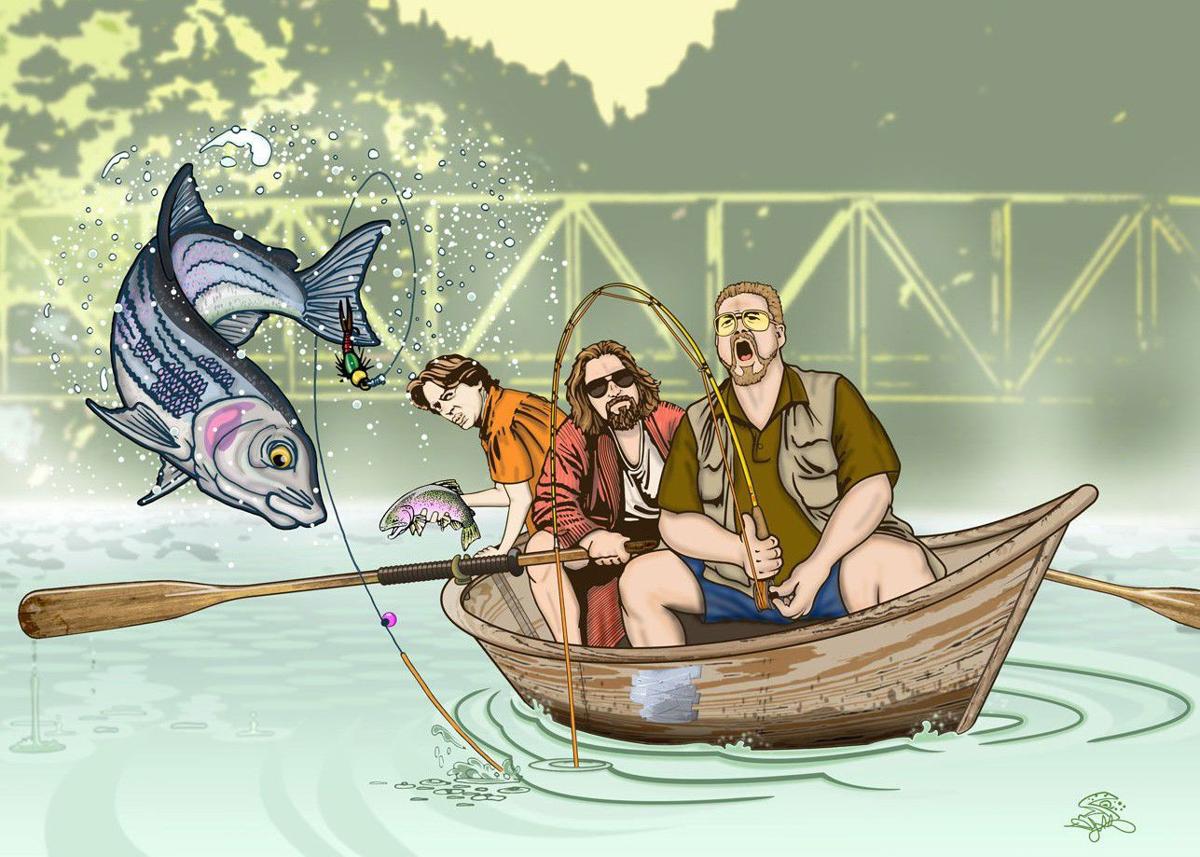 If you've ever doodled a cartoon on a piece of paper during school, or at an office meeting that drones on endlessly, Dave Hartman is an inspiration.
"My Spanish is terrible," Hartman confessed in a phone interview, probably because he was kicked out of Spanish class for drawing cartoons. "At any office meeting, I was doodling."
One of those sketches led to the launch of his Whitefish-based business — Strip'n Flywear — four years ago. His website calls the one-man operation "a quality, fan-driven line of T-shirts and hoodies." The artwork is often a fishing or outdoor-related theme with an odd twist, such as carp running vacuums or a fish designed to look like a grenade.
Hartman will visit East Rosebud Fly and Tackle Shop on Saturday from 10 a.m. to 4 p.m. to display some of his work. Shop owner Rich Romersa is a big fan of Hartman's.
"I just think his stuff is so clever," Romersa said.
Moveable canvas
The cartoon that ignited Strip'n Flywear depicts a Big Wheel — one of those yellow and red children's plastic trikes with the large front wheel — towing a drift boat. Called "Big Wheelin'," the Peter Pan-like tag line appealing to anyone who doesn't want to grow up is: "Childhood adventure and freedom never has to end!"
The graphic echoes one of Hartman's main themes: that often fly anglers, and the fly-fishing industry, take the sport way too seriously, that it's evolving to a golf-like status even though there's no score keeping. He wants to remind folks that fishing is a "childish pursuit" and "to have fun with it." The Big Wheel design also ties into his own childhood fantasies.
"Big Wheels was a huge part of my life when I was a kid," he said. "It's what taught me to be a daredevil."
The Big Wheels design remains one of the most popular Hartman has produced and can now be ordered as a print to hang on the wall, yet the art started out as a shirt design.
"T-shirts are a great canvas," Hartman said. "What other art walks around so other people can see it and interact with it?"
And T-shirts are cheap enough so that anyone can own Hartman's works. Art for the masses. A proletariat pullover. He compares the art to graffiti on a train that travels on past the location where it was produced instead of hanging on someone's wall. The idea that he can one day see a photo of a guy in Japan wearing one of his shirts gets him pumped.
Newer role
Now age 43, Hartman traveled to Missoula to study at the University of Montana. He has a dual degree in social work and fly fishing. OK, so maybe there's no degree for fly fishing at UM yet, but he did put in a lot of days plying the nearby waters with a fly while he was a student — 100 to 150 a year, he estimated.
His real degree eventually landed him a job at a group home in Kalispell where he met his wife to be, Melissa, who is a licensed therapist. After 15 years of working with troubled youth, he decided to step out and give his T-shirt business a go. Every year since his business has doubled, so he's obviously found a fertile niche, but he has yet to accept that what he does can be called art, or that he should labeled an artist.
"This whole (Billings) show for Dave is a big deal," said his friend and promoter Dan Short, of Double Haul Outdoors. It took him three years to convince Hartman to attend. "He enjoys flying under the radar."
"I'm just a practical joker," Hartman said.
If he is an artist, Hartman said he's the type who uses the eraser more than the lead on his pencils. But he doesn't just come up with the concept, he also carries it through the entire process — from designing it on the computer to silk screening, folding and even shipping. That connection to the product is important to him, and that his work is not just some business logo slapped on an article of clothing for advertising.
Movie maker
Hartman's playfulness and creativity is evident in the YouTube video he shot on a whim in San Diego.
Short was driving to go fishing with his father in the mountains near his boyhood northern Idaho home when Hartman called him to say he'd booked his friend a ticket on a plane to California … and then the call cut out.
"All I knew is that I was going to San Diego," Short said. "I hadn't even asked my wife if I could go or not."
Turns out Hartman had devised a trip to film a "Big Lebowski" tribute, but with a fly-fishing for mako sharks theme. He'd bought all of the costumes to resemble three of the Coen brothers' famed cult classic characters: Walter Sobchak (played by John Goodman), Jeffry "The Dude" Lebowski (played by Jeff Bridges) and Theodore Donald "Donny" Kerabatsos (played by Steve Buscemi).
Short played The Dude, Hartman was Donny and J.J. Langevin portrayed Walter. The three took turns filming the video, with the scenes all sketched out by Hartman in advance. They only had four days to film because one of the engines on the jet they were taking from Kalispell caught on fire, delaying the flight for a day and overshadowing the whimsical trip with an element of doom.
"It was just like this little kamikaze mission," Hartman said.
["source-ndtv"]